Quick & Easy Functional Behavior Assessment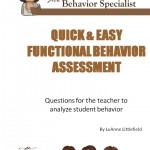 There's a reason for every student's behavior! Jack has not "lost his mind". Jill is not "trying to drive you crazy". He or she is trying to get something or avoid something. Now you have to be the detective and figure out what it is. Many teachers overlook this detective step and skip to a quick fix.
Imagine if you went to the doctor and complained of pain in your arm and the doctor just said to take some ibuprofen. Well, if your arm is broken, that ibuprofen will not work. This is the same thing for student behavior. If a student is not doing his school work, you may send him to time out. If he is avoiding doing school work because he doesn't understand it, your discipline will not fix the problem. It is actually helping the student avoid work.
I call this a Quick & Easy Functional Behavior Assessment because it just takes a few minutes to do. This is not a formal assessment many specialists prefer. It's for the classroom teacher who has to deal with tough behaviors all the time.
One of my favorite encounters with a 3rd grade teacher was when she stopped me in the hallway and explained a problem she was having with a student. Before I could say a thing, she went on to quickly analyze his behavior. She specifically described his behavior, said he acted out at specific times, she thought he was doing it because ____, and thought she could take care of the problem by ____. She then thanked me for the help! I said, "You're welcome!" and smiled all the way to my classroom. She did a Quick & Easy Functional Behavior Assessment right there in the hallway in less than 5 minutes!
Let's get started! Download Quick & Easy Functional Behavior Assessment Teacher Reflection. Use this list to help you analyze what is going on.
In the next few days, I will show you how to use this Quick & Easy Functional Behavior Assessment and turn it into a behavior intervention plan.
See you soon, LuAnne