November, 2013
now browsing by month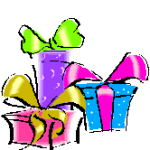 During the days leading up to the holiday season, consider having students keep a Gratitude Journal.  Whether you are a teacher or counselor at the elementary, middle, or high school level, this is something that is free, beneficial, quick, and easy that you can do with your students!   On the first day, it will take about 20 minutes of time for you to explain the purpose of the activity, give a quick overview, and allow your students writing time.  On subsequent days, only 5-10 minutes for writing will be needed, unless you want to spend optional time sharing.  The final product will be a nice take-home for your student to share with family.  I might add, if you find this activity to be beneficial to the overall climate of your classroom (a very real possibility), consider continuing the activity beyond the holidays! However you decide to implement it, here's what you need to know.
When talking with students at the onset, define gratitude and share the various benefits of being thankful with them.  Do they know that being thankful boosts their immune system?  Do they know that people who are thankful are, in general, happier than those who are not?  Do they know that people who show gratitude tend to be more connected and foster more teamwork within groups?  Heck, do they know that studies have shown that thankful students make better grades in school?!
A free handout with the full lesson can be found on Teachers Pay Teachers, which you can access by clicking this link:  Gratitude Journals: Fostering Thankfulness in Students.
The idea of keeping a Gratitude Journal during school is not an original one.  This concept has been researched and promoted by Martin Seligman, the Director of the Positive Psychology Center at the University of Pennsylvania. He calls his version of the activity the "Three-Good-Things Exercise".  For more information about this specific exercise, go to the University of Pennsylvania's Authentic Happiness website.  This website is loaded with articles, activities, and questionnaires about happiness, resiliency, optimism, and gratitude, to name a few.  If you have a few minutes, a few hours, or a few days to devote to exploring the website, I highly recommend it!
http://www.authentichappiness.sas.upenn.edu/Default.aspx
An excellent site with LOTS of information on gratitude is the University of California at Berkeley's Greater Good Science Center, where you will readily find Robert Emmons's expertise on the topic of gratitude.
http://greatergood.berkeley.edu/expandinggratitude
Lastly, don't forget that this activity is not just for your students.  Keep a Gratitude Journal, yourself, and reap the benefits.  Being grateful IS good for the soul!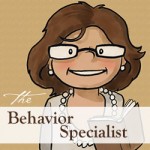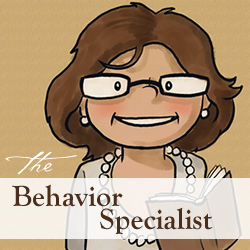 Weeelll…I'm going to cause a stir…I'm just going to say it…I do not think the flip card (color card) system for classroom management works! There! I said it! Classroom teachers, stay with me…
Here are the systems I've seen: Each student has 5 colors in order (often blue, green, yellow, orange, and red) in a pouch with his name. When he misbehaves, the teacher tells the student to flip a card. When the card gets to red, it's a trip to the principal and a call home. Another system I heard about had rainbows, sun, raindrops, storm clouds, and even lightning bolts. Whew! Some teachers attach rewards/consequences to the various colors…trip to the treasure box if you stay on blue, walk at recess if you are on orange, etc.
Now for the huge majority of students, the flip card system works. However…and here is the problem…it does not work for the student with chronic misbehavior. You can add the whole range of ROY G BIV and it still won't work. I know. I've tried it. I have tried multiple ways to make the teacher's current flip card system work for the student with chronic misbehavior. It was frustrating, and a huge waste of time. Also, for the majority of students, a simple redirection is all that needed. The leveled system, such as the flip cards, is not necessary. So why use a system that doesn't work with students that have the toughest behaviors and the other students don't need?
Let me introduce you to Thomas Phelan's 1,2,3 Magic! I absolutely love it! It is a behavior management system designed for children 2-12 years of age. By the way, I am NOT affiliated with this company. I get nothing from them. I just absolutely think it is the best system I have ever used, and I want to share it with you!
I have used 1,2,3 Magic with my self-contained elementary students with severe behavior. I've used it with my resource students who have learning disabilities. I've help regular elementary teachers implement it in their classrooms very successfully. I've used it with my three children! I even used it with a 14 year old with the maturity level of a 12 year old to teach him to stop talking back—it worked!
I was watching the 1,2,3 Magic video to refresh my memory with my teenage daughter. She said, "I hate that!" I was shocked and asked why. She replied, "Because when you said 'That's one', I knew you meant it and I HAD to follow directions." She was correct. When I followed the guidelines of 1,2,3 Magic, I did mean it.
The system sounds simple, but you must fully understand the potential pitfalls in order to implement it well. When the child is doing something you want him to stop, look at him and calmly say, "That's one." You continue teaching/washing dishes. You are giving the child the opportunity to comply. If you stare at him, the child may perceive that as a challenge and misbehave more. If he stops, you may thank him. If he continues to act out, calmly say, "That's two." Again, give him the opportunity to comply. If he continues, say, "That's three. Time out." Dr. Phelan says, "That's three. Take five (minutes of time out)."
The absolutely hardest part of this system is getting the ADULT to STOP TALKING! You cannot say, "See I told you if you continued, I'd count" or "I'll count again if you don't stop running around" or "2 and a half, 2 and three quarters…." When I found myself too emotional or too talkative, I stopped immediately and tried to remember the rules Dr. Phelan outlined.
One time, I was talking with a contractor in my house and my 9 year old daughter was being a bit of a nuisance. After one minor disruption from her, I quickly looked at her and calmly said, "That's one" and continued talking with the contractor. My daughter quieted immediately and after a few minutes wandered off to play. The contractor asked what that was. He knew something happened but could not figure it out. That is what I like about it. I did not embarrass my daughter. I did not engage her in a power struggle. I simply gave her an opportunity to behave. She did. My daughter is now working in day care and guess what system she is using? 1,2,3 Magic! Love it!
When I taught in the classroom, I had a designated spot for time out. It was often a beanbag on the floor behind a file cabinet or a 3-sided wall partition in the corner of the room. It was always where I could easily supervise but not visible to other students and away from distractions (manipulatives, window, doorway, etc). Outside the time out spot, I had Time Out Notes. This was a way to keep data on who was in time out, when and how long. It was also a learning tool for the child. When the child felt he was ready to follow directions, he stepped out to get the Time Out Note and a pencil (of course, I noticed when he did this). I would request the student to come talk to me. The Time Out Note was the basis for our 2 minute conversation on the misbehavior. I filed the note for future data use.
When people say time out doesn't work, it's usually adult misuse that causes its failure. Check out 1,2,3 Magic (I now give it as a baby shower gift!) and Time Out Note.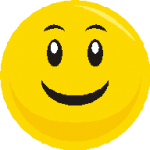 "If you want to be happy and you know it, clap your hands!" Clap. Clap.
"If you want to be happy and you know it, clap your hands!" Clap. Clap.
"If you want to be happy and you know it then make sure your face will show it,
If you want to be happy and you know it, clap your hands!"
Okay, this is a challenging concept to digest and an even more challenging concept to PRACTICE when a person is not happy.  After all, if someone is sad, the last thing he or she wants to do is smile and "act" happy.  Yet, research has shown over and over again that when a sad person forces a smile on her face, it will, in fact, help her feel better.  How?  First, a person's brain registers the smile and releases endorphins and serotonin, both which elevate mood.  Secondly, there's the effect a person's smile has on her interaction with others. Instead of someone approaching her with a frown and asking "What's wrong?" and thereby perpetuating the negative emotion, others will likely respond to her smile with more favorable, positive comments.  So, with this in mind, I have told students of all ages who want to feel happier to force a smile.  "If you want to be happy and you know it then make sure your face will show it…"
So, let's consider the other modified line to this classic children's song, "If you want to be happy and you know it, clap your hands!"  This is slightly different than the line about making sure your face shows it. How so? This directive in the song is not so much telling a person how to look, it is telling him or her how to act.  Changing what we are doing can have a direct positive impact on how we feel.  When counseling students, we often ask them, "Do you want to feel better? If so, DO something differently.  Stop doing behaviors that perpetuate feeling badly. Stop listening to sad music. Stop talking with others about how bad things are. Stop overeating.  Start doing behaviors that encourage feeling better. Get up. Get moving. Get busy distracting yourself from your troubles and worries. Help someone else. Count the blessings you DO have."  The list of possible mood-lifting actions is a long one.
Now, having said all of this, I realize that sometimes feeling SAD is exactly the right feeling for a particular moment. I am not saying no one should ever feel sad. That's absurd. But, what I am saying is that if a student seeks out support because he or she wants to feel happier, two steps you can encourage the student to take are: 1) smiling, and 2) doing something that will get his or her mind off feeling badly.  So, get them clapping!  Clap. Clap.
If you are interested in a student handout and overview of this lesson, you can download it at TEACHERS pay TEACHERS by clicking this link:  If You Want To Be Happy & You Know It.
*If you suspect a student may be clinically depressed, it is important to inform parents and share information regarding additional resources to assist them in providing their child with appropriate supports and services.