counseling strategy
now browsing by tag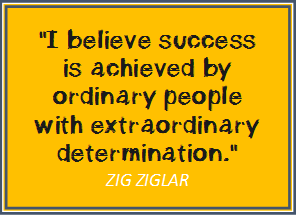 Sometimes a little difference is, in reality, a very big 180-degree kind of difference, a night-and-day type of difference. The details matter.
Have you ever tried to freeze water at 33 degrees? What about calling someone but being one number off in their phone number, or worse yet, being off by only one number in the bajillion dollar lottery? What if a doctor performed a skilled procedure and forgot to wash her hands or failed to put on gloves beforehand? Sometimes little things are a BIG DEAL.
Which leads me to this difference…
Extra ordinary
&
Extraordinary
One little space, that's the difference. But what a huge difference that little space makes in those words! The word 'extra' conjures up words like especially, very, and more while the word 'ordinary' is synonymous with words like usual, regular, common, average and normal. Extra ordinary, therefore, means "especially average" or "very usual" or "more average" and such. Extraordinary, on the other hand, is explained with words like uncommon, amazing, astonishing, special, remarkable, wonderful and great. Two very different meanings for sure.
So what does this little observation have to do with anything, really? For me, it signifies two important life skills that are keys to turning extra ordinary into extraordinary. These life skills are persistence and paying attention to the details in how someone communicates with you.
PERSISTENCE. Sometimes attaining a goal or successfully doing something is just a small space away…but we quit. We stay at extra ordinary and miss out on extraordinary. Persistence, sticking with it, is a very important life skill for people of all ages, even babies. Babies who don't give up when they fail at learning new tasks and instead try again and again and again and again learn new skills much faster than babies who fail and quickly stop attempting. Of course, the same is true for children and adults. Extraordinary people of all ages often find difficult tasks (academic, athletic, body, mind, spiritual, creative,…the list is endless) to be challenging but don't quit. They don't let "not knowing" become an excuse for giving up. They may not be enjoying the difficult task. In fact, they probably aren't, but they do it anyway. They keep trying. Persistent people practice when they would rather be doing something else. They work hard.
PAYING ATTENTION. What about the details? Paying attention to details allows extraordinary people to capitalize on what is going on in any given moment. Being aware of oneself, one's environment, and others gives a person an advantage, insight, when relating with others. Some people are naturally skilled at noticing and respond accordingly. Important social details are embedded in a person's nonverbals. His facial expression, her body posture, little nuances that send additional messages a person is not conveying in his overt words or actions. The WAY we say or do something is the details. Extraordinary people notice the WAY people say or do things as much as what they person is saying or doing. In fact, extraordinary people realize that nonverbals trump words when it comes to communicating.
If you are a counselor or teacher looking for lessons on these two 21st
century skills to use with a whole class or an individual student, here are two stand-alone lessons on how persistence and attention to nonverbal communication can help turn extra ordinary into extraordinary!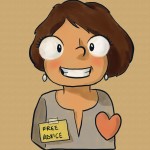 rip·ple ef·fect (n.): The continuing and spreading results of an event or action. www.oxforddictionaries.com
A simple technique I frequently use with students is the "Ripple Effect" strategy. Often, I work with students who are impulsive in their decisions, resistant to authority, quick to anger, or easily baited by peers to say or do something inappropriate. The "Ripple Effect" strategy helps students systematically and visually dissect what happened and readily shows them where in the unfolding of the situation they could have said or done something differently, resulting in a more favorable outcome. While it's too late to undo what has already happened, this strategy shows students how their behavior affects others and how others' behavior affects them, causing the ripples to grow wider and wider, like ripples that spread outward when a rock is thrown in water. The hope is that by processing a conflict that has already occurred, a future conflict can be avoided or, at the least, minimized.  Additionally, this strategy helps the student identify her role in the conflict, thereby assuming responsibility for her actions/words and recognizing how they contributed to the conflict.
Here's how it works.
I begin by listening to what happened. Oftentimes, the student shares the story from what she perceives is the beginning but what, in reality, is several steps into the event. It usually requires some questioning to get to the actual "beginning" of the story. Once the story is shared, I ask the student if she has ever thrown a rock into a pond, and if so, what happened. This leads to a short conversation about the ripples the rock creates in the water. I explain that we are going to use the idea of ripples in water to discuss what happened to her, and we plug the situation into the "Ripple Effect" worksheet.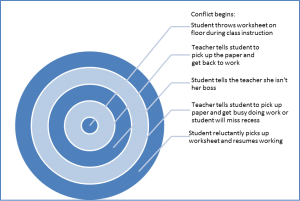 I then point out how the ripple grew from one to two to three to however many ripples because there was an INTERACTION going on between the student and someone else. Typically with every other "ripple", the student had a choice in causing the ripples to grow (the conflict escalates) or stopping the ripples from increasing (the conflict stops). As we process each ripple, we write out what was said or done at that point.  Once all the ripples are created based on the conflict being processed, I ask the student, "During which of the ripples were you saying or doing something?" We circle all of the instances that were student's actions or words.  I then systematically ask the student what she could have said or done differently at each of these circled points which may have stopped the ripple from growing.  In other words, what could she have said or done that would have been more appropriate?  Students typically are very good at identifying more appropriate choices once they are calm and removed from the conflict.
Another key point to make when using this strategy is to help the student realize that she only has control of some of the ripples (typically, but not always, every other ripple).  Most conflicts fall into an action/reaction category. The first ripple is the action, the second ripple is a reaction to the first, and the third ripple is a reaction to the second, and so forth.  Although she only creates the first and third ripples, her actions are fueling the reactions from others.  IF she says or does something that reduces the chance of the problem escalating, the other person may still add a ripple (i.e., say or do something to make the situation worse), but it is less likely.
When we are finished filling out the worksheet, the student is able to keep the worksheet as a visual reminder of the process as well as share it with her parents or teacher.
If you are interested in using the "Ripple Effect" strategy and would like clear instructions, several user-friendly worksheets, and a few scenarios illustrating its implementation, wait no longer! I have, for years, drawn concentric circles on scrap paper, which works in an informal way, and truthfully, it would for you. But, if you want a more comprehensive, sequential way to use this strategy that includes all the "bells and whistles" my scrap paper circles lacked, here it is: The Ripple Effect Strategy—A Strategy for Analyzing Conflicts.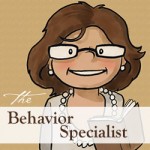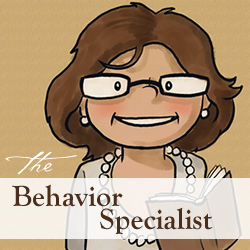 Does it seem like your student explodes instantly?
Actually there are many signs before an explosion. This handout, The Cycle of Anger, will help you and the student recognize these signs in order to avoid the explosion.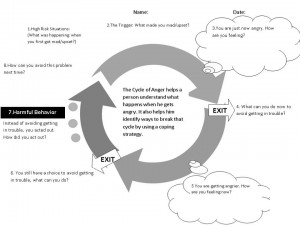 Step 1: High Risk Situations-this identifies what was going on and where the student was when the problem started. By analyzing this data, you may notice a student always has a problem in a specific activity (math, PE, free time, etc.) or in a certain location (bathroom, hallway, music class, etc.).
Step 2: The Trigger-what happened that triggered a student? What set him off? It could be as simple as the teacher giving a direction or another student making a face.
Step 3: How are you feeling? The student's body is giving him signals. At first, it will be difficult for the student to recognize these signals. You need to pay attention and help him identify what his body is doing. It may be increased breathing, increased heart rate, tightening of the jaw, tapping fingers on desk, etc.
Step 4: EXIT-this the first opportunity to get off the cycle of anger. What can the student do to avoid blowing up? The de-escalation strategies listed here should be want works for this student. Don't just make a generic list. What specifically will work for this one student?
Step 5: How are you feeling now? This is similar to step 3. It's recognizing body signals. The signals may be huffing and puffing breaths, slumped body in chair or rigid body, grumbling, etc.
Step 6: EXIT-the student has another opportunity to get off the cycle of anger. Again, what can the student do to avoid blowing up? He may need to take a walk, take a time out, etc.
Step 7: Harmful Behavior. This is what happens when the student does not use an exit behavior and get off the cycle of anger. It's an unacceptable behavior. It may be talking back, slamming a book, fighting or threatening others. The harmful behavior will following with discipline.
Step 8: How can you avoid the problem next time? This is the whole reason for processing behavior. Step 8 should connect to Step 1. You want to encourage the student to avoid high risk situations.
Once I had a 4th grader who would yell, knock over chairs and desks. In the heat of the moment, I could only hope to contain the student to keep everyone safe. After he calmed, we reviewed what happened. We used the Cycle of Anger to help process what happened. We discovered his body was giving him signals…he squinted his eyes and squeezed his lips tightly when getting angry. We finished the worksheet and he had a consequence for his outburst. Days later, he started to get angry…his eyes squinted, his lips squeezed in a line. Because we had analyzed his behavior and body signals earlier, I was able to point out what his body was telling him. I let him know that this is the time to make good decisions (take 10 deep breaths, etc). He was surprised and was able to stop his explosion.  This was a wonderful breakthrough; it was the first time he changed his behavior! We praised him and he was happy. Several days later, he again was getting angry. When he squinted his eyes and squeezed his lips, he gasped when he recognized what his body was telling him! He was able to change his behavior on his own!!! He had very few disruptions after understanding his outbursts and being able to control them.
Just the other day, a young lady in high school used the Cycle of Anger after just one introduction to it. It was her first day our program. I reviewed the Cycle of Anger and explained part of the program is understanding behavior in order to control it. Later that day, she was irritated by a boy in class. She told me she remembered the Cycle of Anger and instead of "going off", she closed her eyes and took slow calming breaths. Now THAT'S excellent control!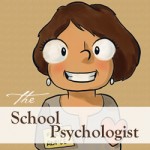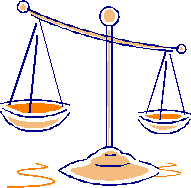 With the approach of Valentine's Day, a very busy day for counselors due to broken or lonely hearts, I thought it would be worthwhile to consider the importance of practicing reciprocity, the ability to give to and receive from others.  The ability to give and take in a balanced manner will pay off large dividends in all types of relationships, be it friendships, parent-child, dating relationships, spouses and even co-workers who share a very small office…right, Eva?
Let's look at reciprocity using the familiar saying, "You scratch my back, I'll scratch yours".  Growing up it was a fairly common practice for my siblings and me to tickle each other's backs when we were on long road trips in the car.  And, you can be sure of one thing, there was an equal amount of giving/taking going on. No one was going to receive a back tickle without giving equally back to the giver.  Not if they ever wanted a turn of receiving again! We were even known to use our watches or number of songs played on the radio to be as "fair" as possible. Without a perceived balance, back-tickling would have been abandoned, likely after arguing.
So, what are the possible variations to this quote? Really, there are three:
You Scratch My Back, I'll Scratch Yours

—two people in a relationship who want to have a mutual, balanced amount of give/take.  It may not always be 50/50. In fact, that is unlikely. But there is clear evidence of each person giving and receiving in an equitable way. Typically, both people in this relationship are content with the relationship. This relationship has a good chance of enduring over time and providing both people with happiness and satisfaction.

You Scratch My Back, I Won't Scratch Yours

—two people in a relationship wherein one is a giver but not a receiver and one is a receiver but not a giver.  This relationship is vulnerable because while the receiver typically remains satisfied, the giver may struggle with feeling unappreciated. The relationship may start out okay but gradually becomes problematic as the giver's needs for nurturance and attention go unmet or met at a very low level.

You Won't Scratch My Back, I Won't Scratch Yours

—two people in a relationship where neither gives and both take.  But, what is there to take? Neither is giving. So, while this might work in the short-term, this relationship is set up for failure. These relationships tend to be volatile because although each person is not giving, both likely want to receive. Therein lies the tension. Indifference, frustration, anger and resentment brew.
To point out the importance of balancing the act of giving/receiving, whether it be back rubs or sharing a quality conversation or anything, really, I use a great activity that leads to lots of discussion by the participants. This activity is good for intermediate elementary, middle school, high school, and college students.  Adults in a group setting would also find it revealing.  Click the following link if you are interested in previewing the whole-class or small-group activity:  YOU SCRATCH MY BACK, I'LL SCRATCH YOURS: The Give and Take in Relationships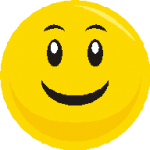 "If you want to be happy and you know it, clap your hands!" Clap. Clap.
"If you want to be happy and you know it, clap your hands!" Clap. Clap.
"If you want to be happy and you know it then make sure your face will show it,
If you want to be happy and you know it, clap your hands!"
Okay, this is a challenging concept to digest and an even more challenging concept to PRACTICE when a person is not happy.  After all, if someone is sad, the last thing he or she wants to do is smile and "act" happy.  Yet, research has shown over and over again that when a sad person forces a smile on her face, it will, in fact, help her feel better.  How?  First, a person's brain registers the smile and releases endorphins and serotonin, both which elevate mood.  Secondly, there's the effect a person's smile has on her interaction with others. Instead of someone approaching her with a frown and asking "What's wrong?" and thereby perpetuating the negative emotion, others will likely respond to her smile with more favorable, positive comments.  So, with this in mind, I have told students of all ages who want to feel happier to force a smile.  "If you want to be happy and you know it then make sure your face will show it…"
So, let's consider the other modified line to this classic children's song, "If you want to be happy and you know it, clap your hands!"  This is slightly different than the line about making sure your face shows it. How so? This directive in the song is not so much telling a person how to look, it is telling him or her how to act.  Changing what we are doing can have a direct positive impact on how we feel.  When counseling students, we often ask them, "Do you want to feel better? If so, DO something differently.  Stop doing behaviors that perpetuate feeling badly. Stop listening to sad music. Stop talking with others about how bad things are. Stop overeating.  Start doing behaviors that encourage feeling better. Get up. Get moving. Get busy distracting yourself from your troubles and worries. Help someone else. Count the blessings you DO have."  The list of possible mood-lifting actions is a long one.
Now, having said all of this, I realize that sometimes feeling SAD is exactly the right feeling for a particular moment. I am not saying no one should ever feel sad. That's absurd. But, what I am saying is that if a student seeks out support because he or she wants to feel happier, two steps you can encourage the student to take are: 1) smiling, and 2) doing something that will get his or her mind off feeling badly.  So, get them clapping!  Clap. Clap.
If you are interested in a student handout and overview of this lesson, you can download it at TEACHERS pay TEACHERS by clicking this link:  If You Want To Be Happy & You Know It.
*If you suspect a student may be clinically depressed, it is important to inform parents and share information regarding additional resources to assist them in providing their child with appropriate supports and services.