grief
now browsing by tag
Two colleagues I consider to be dear friends are retiring at the end of this school year. Typically, retirement of friends causes a little tinge of jealousy to rise up in me. Not so much this time. While I don't see them often anymore due to a change in my job responsibilities, knowing neither of them will be around the corner for a quick conversation brings a feeling of melancholy. They are both dandies.
Last week, some close family friends experienced the death of their father and grandfather, an outstanding man. He will be greatly missed. His strong passion for life, his hearty laugh, and his compassion for others will live on through his children and grandchildren. They are his greatest legacy.
Today was my last day of teaching AP Psychology at our high school, something I find great joy in doing. Silly me teared up as I said goodbye to 16 terrific young people, 14 who are graduating in two days and dealing with their own multiple "good-byes" and "lasts". They all have promising futures.
Loss is around us all of the time.
It's no wonder that in the past week, a wonderful, timeless book has repeatedly come to mind. It was a staple during college, and over the years, I have shared it with many people who are dealing with loss, including four terrific young ladies this year alone. The book, How to Survive the Loss of a Love, is a very quick read. Written by Peter McWilliams, Melba Colgrove, and Harold H. Bloomfield, it is a series of poems that guide the reader through the stages of grief. The book focuses mainly on the loss of a relationship, but it can be beneficial for ANY type of loss. I can't recommend it enough. It takes about 30 minutes to an hour, tops, to read and is sort of like a self-help therapy session packed in its pages!
And, want to know another fabulous thing? You can read the book online for free! Just search the title, and you'll see a few online options of the book. But, because it is often read repeatedly during a tender time in someone's life, I highly recommend purchasing the actual book, available at many bookstores and also found on Amazon. The hardcover book makes a lovely, thoughtful gift.
http://www.amazon.com/Survive-Loss-Love-Peter-McWilliams/dp/0931580439/ref=sr_1_1?s=books&ie=UTF8&qid=1432783666&sr=1-1&keywords=How+to+survive+the+loss+of+a+love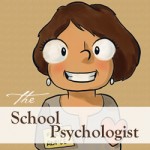 Dear Mrs. Davis,
You were my second grade teacher at Arapaho Elementary School in Richardson, Texas. The year, 1965.  I really don't remember much about what you taught me, outside of the Planets Song, but I remember how you made me feel…Loved.  You were old, plump, and wore horn-rimmed glasses.  Chances are, you have passed away, but as another school year looms on the horizon, I want to let you know how much you helped me through a difficult time with your simple kindnesses.  I have never forgotten.
In April of 1966, when my daddy unexpectedly died of a heart attack, I missed two weeks of school.  My mother and I travelled to Alabama to join the rest of my family to bury my daddy.  When we returned home, I was nervous about returning to school.  I felt like I had a big neon sign over my head that flashed "My daddy died! My daddy died!" and worried about how my classmates were going to treat me.  Would the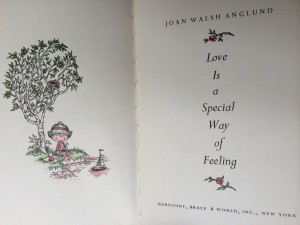 y ask me questions? Would they avoid me like I had the plague?  But you eased my fears by giving me a book, "Love is a Special Way of Feeling", by Joan Walsh Anglund.  Inside the cover, you wrote in most excellent print, "We love you, Pam."  Underneath your name were the printed signatures (after all, we hadn't learned cursive yet) of my 24 classmates.  Receiving this book before I returned to school let me know that I was welcome and I was loved.  You have no idea how much that simple gesture made me feel. Even though my classmates may not have fully understood what was going on, having their signatures in the book under the comment "we love you" was, well, incredible.
The last month of school was good, but as a result of my daddy's death, you knew I was moving to Alabama at the end of the school year.  On the last day of school, as we all cleaned out our desks and said our goodbyes, you gave me my second gift, a going away present.  Right before I left, you handed me a worn copy of "The Miracle Worker" by William Gibson.  You told me that it was your son's book but you wanted me to have it because I was moving to the state where this amazing woman and her teacher lived, where this beautiful story of strength and courage took place.  It was several years before I was able to read the book but knowing that it meant a lot to you made me look forward to reading it. 
I suspect you repeated this type of gesture numerous times throughout your career for a variety of reasons due to student needs.  But that never entered my mind.  What entered my mind is that I was loved by you at a time when I needed to feel loved.  I have never forgotten, and I am still grateful.
I love you,
Pam
Here is a free handout, TEN TIPS FOR TEACHERS: SUPPORTING A GRIEVING STUDENT, that is useful for classroom teachers, guidance counselors, and school psychologists.
When one door of happiness closes, another opens,
but often we look so long at the closed door that we
do not see the one that has been opened up for us.
Helen Keller